sensory modulation
Help us raise $100,000 to upgrade our community mental health facilities
Nearly half of all New Zealanders will live with mental illness and/or addiction at some point during their lifetime and the use of mental health services has increased by 73% over the past decade.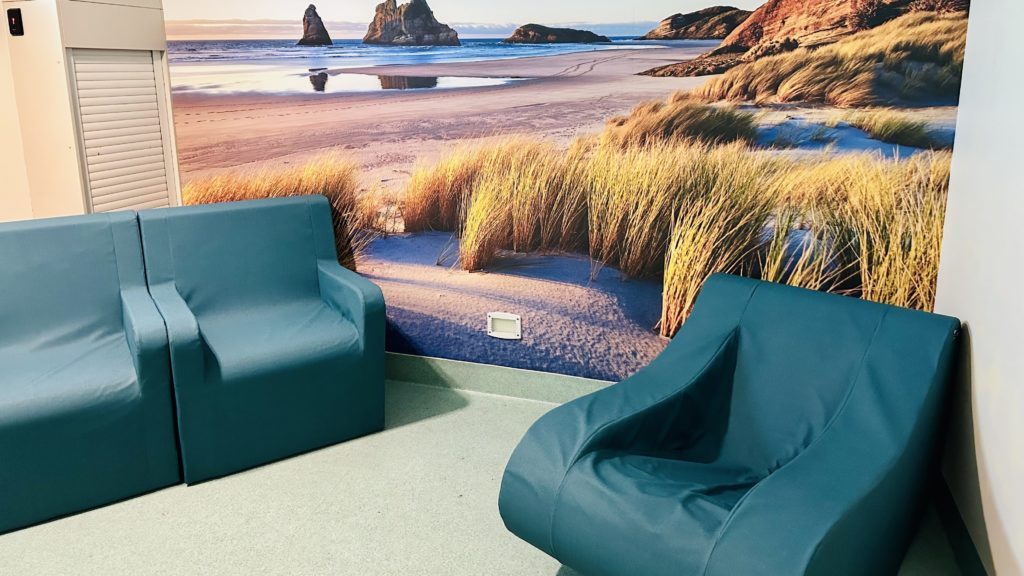 A study completed by Te Pou in collaboration with the Occupational Science and Therapy Department at Auckland University of Technology and the mental health inpatient units of four DHBs explored alternative methods for managing distressed, agitated or aggressive behaviour and the findings suggest that sensory interventions are viewed by both staff and service users as being effective in modulating distress and promoting calm. Sensory modulation is becoming well embedded in New Zealand as part of an increasing effort to reduce and eliminate seclusion and restraint. Sensory modulation is a way of using senses such as sight, sound, smells, touch, taste and movement to help regulate emotional responses to any given situation and provides specific individual skills to self soothe and function. It is an approach used in all of our region's mental health facilities including inpatient, outpatient and community sites as well as Waitakere and North Shore Hospital Emergency departments.
A variety of equipment and environments are used to provide sensory input including sensory rooms and individual modalities, and each mental health facility in the Waitematā DHB region has rooms allocated for this purpose. However, these facilities desperately need to be updated to provide the therapeutic environment required. We are proposing to upgrade the environment, including low sheen wall colours, lighting and sound proofing in addition to supplying challenging behaviour furniture and sensory kits. Each unit has advised the items required, ranging from massage chairs to silent clocks.
Our target was to raise $100,000 to support staff, patients and upgrade our region's facilities – Waiatarau and He Puna Waiora inpatient units, Emergency Departments at North Shore and Waitākere Hospitals and community services in Takapuna, Henderson, red Beach, Helensville and Warkworth.
The latest sensory modulation room to be upgraded is within North Shore Hospital's Emergency Department, and was made possible thanks to the generosity of the Rotary Club of East Coast Bays, who raised funds for the project through their annual golf day.
The dedicated room is now equipped with specially designed furniture, soothing imagery, low lighting and accessories such as weighted blankets. The dedicated low-stimulus environment helps healthcare teams provide the best care for mental health patients who often need a quiet, calm and private space.
Well Foundation has worked with the community to raise close to $70,000 to make the upgrade of these spaces possible for patients receiving care as inpatients, through community facilities, and now within the ED. Thank you to all who have generously provided support. 
We still have around $30,000 to raise to complete the project and equip the Waitākere ED with their sensory room. Can you help?
Our impact is only made possible through the following incredibly generous organisations: